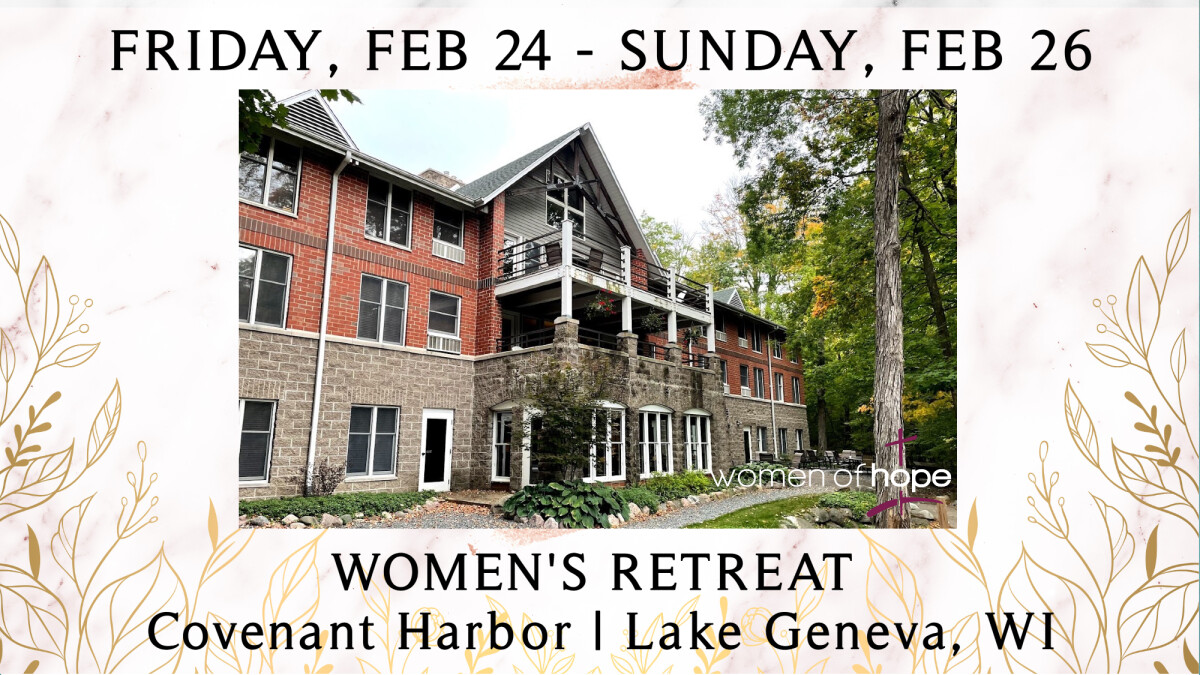 Friday, February 24, 2023, 5:00 PM - Sunday, February 26, 2023, 12:00 PM
Join us for a time to enjoy connections during this two-night stay!
$150 per person / approx. 2 to 4 per room (dependent on availability). Includes meals, speaker, activities, and casual time together. Open to ages 16 years and up.
Retreat Theme: Kingdom-Minded Connections
We look forward to learning more about the Lord's plan for connections for us: the principles, joys, heartaches, and harmony. We will look at how to do that in the midst of a culture that tempts us to find isolation easier and more attractive.
Location: Covenant Harbor - Lake Geneva, Wisconsin
The caring staff at Covenant Harbor will be our host. This Camp & Retreat Center makes it a fun and cozy place to gather. We will be able to stay on-site and enjoy 5 meals along with plenty of recreation time in the evening and Saturday afternoon (including access to an indoor rock-climbing facility). This retreat is open to all women 16 years old and up as long as the minor is accompanied by a parent/responsible adult.

Speaker: Erin Blume came to know Jesus at an early age. God has called her to serve the Church, and she is currently serving at her home church in Illinois. She has spent eight years serving as the Discipleship Coordinator of Student Ministries and now oversees the Life Group and Women's Ministry. Erin graduated from Moody Bible Institute with a degree in Counseling and received her Master's degree from Trinity Evangelical Divinity School in Counseling Ministries. Erin and her husband Jason are raising two fun and spirited little girls, Eliot and Landry. In 2014, they faced the devastating loss of their firstborn, their son Parker. Through the loss of her son, Erin tells people that she experienced the love of God in a way she just would not have otherwise known had she not gone through such tragedy. She knows Jesus is real, and she lives her life serving Him and His Church.
Contact Debbie at if you are in need of scholarship assistance or would like to be a scholarship donor.