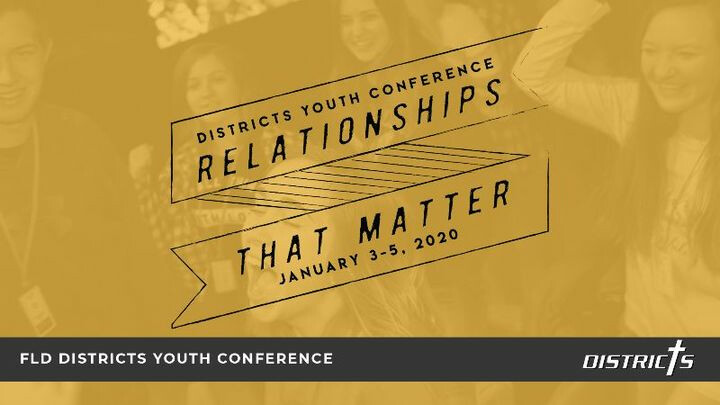 Friday, January 03, 2020, 1:00 PM - Sunday, January 05, 2020, 5:00 PM
RELATIONSHIPS MATTER. THEY BUILD US UP OR THEY TEAR US DOWN. THEY DRAW US CLOSER TO JESUS OR LEAD US FARTHER AWAY. RELATIONSHIPS CAN LEAD US TO LAUGHTER, LOVE AND JOY OR FEAR, DEPRESSION AND DARKNESS. IT MATTERS WHO WE HANG OUT WITH, INVEST IN AND FOLLOW.
THIS WEEKEND WE'LL LOOK AT DEVELOPING HEALTHY RELATIONSHIPS, MAKING A DIFFERENCE IN THOSE PEOPLES LIVES AND BECOMING WHO GOD HAS CALLED US TO BE...
BECAUSE IT MATTERS.
This event is for Hope High School Students in 9th - 12th Grades.
Please pay a $40 deposit when registering.

If you'd rather pay via check, please turn checks in to Greg.
If scholarship is needed, please contact Greg before registering.
If the event is full when you try to register, please email and he will try to secure more spots for registration.
Two links below. The first is to the conference website. The second to the promotional video for this year.
https://www.districtsyc.com
https://vimeo.com/359896617