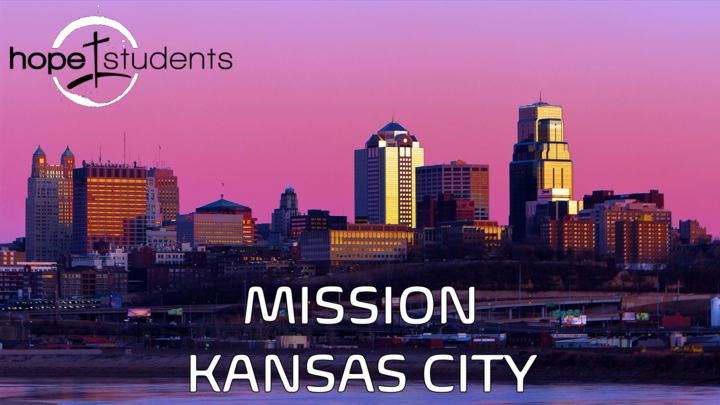 Friday, June 30, 2023 - Saturday, July 08, 2023
Our summer mission trip this year will be to Kansas City, MO and will be facilitated by Apex. Apex is the student mission organization associated with our denomination, the EFCA.
Cost?
The total cost for this trip should end up around $450, with a non-refundable deposit of $100 due at registration. However, the final amount owed will be adjusted based upon our team's fundraising and the cost of transportation approximate to the trip.

We have fought hard to keep the cost of this trip as low as possible in the midst of rising costs. We will have a team-wide fundraiser hosted at Hope Church on Sunday, March 5, 6-8pm). Students are also encouraged to do their own personal fundraising.

Our team will have a handful mandatory meetings throughout the spring semester to prepare our hearts, minds and teamwork for our trip. Important dates and suggestions regarding fundraising are included in this linked packet.
What will students do in Minneapolis?
This urban experience in the Kansas City will expose you to diverse approaches to ministry and introduce you to church and local leaders who are transforming their communities with the gospel in fresh ways. Your team will be trained to enter people's communities and lives with a heart of service and willingness to learn. Teams will bring the good news of the gospel to the people of the Kansas City by demonstrating Christ's love, which opens the door for the lost to find their place in God. More details are included in the linked packet above.
Who can go?
At the moment the registration is open to students currently in 8th-12th grade. However, there are a limited number of spots, and if demand exceeds available spots, preference will be given to upperclassmen, who might not have another opportunity for this sort of trip with their home church. If the current available spots fill up quickly enough, we can attempt to secure more spots with the organization, if they are still available. Feel free to reach out to Pastor Kurt with questions.