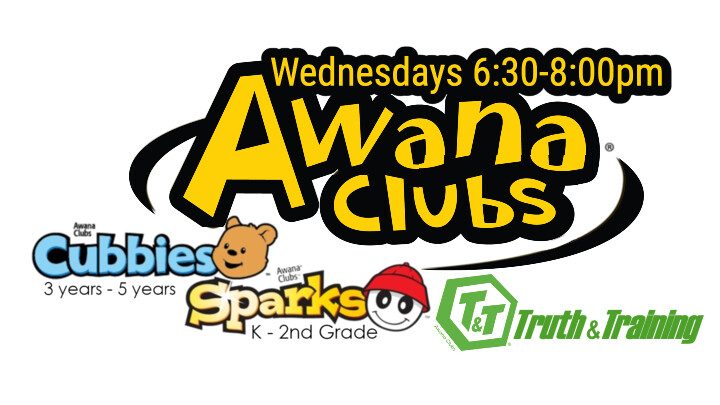 Every Wednesday, from 09/06/2023 to 04/24/2024, 6:30 PM - 8:00 PM
Meets Wednesday Nights 6:30 pm - 8:00 pm
AWANA is a nondenominational ministry that teaches children Bible basics in a fun, interactive club environment. Your child will develop relationships with other children, caring adults, and most importantly Jesus Christ.
AWANA Clubs
Cubbies (age 3 & 4) Can be picked up at 7:45 if desired
Cubbies celebrate the spiritual potential of preschoolers and cultivate respect for God. Kids learn basic truths about, God, Jesus, and salvation.
Sparks (K-2nd grade)
Sparks ignite kids' curiosity and build a foundation of wisdom for knowing Christ. Kids learn about exciting people from the Bible; Genesis to Revelation.
Truth & Training (3rd-6th grade)
T&T guides kids to a deeper understanding of God's grace! Kids learn more about God, the Bible, Jesus, and the life application of Scripture.